Meet the Jimmy Creech Small Businessperson of the Year!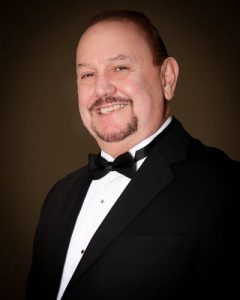 Congratulations to Spook Joyner and the Rudy Theatre
We are so pleased to announce that Spook Joyner of The Rudy Theatre, Live at The Rudy is the recipient of this year's Jimmy Creech Small Businessperson Award! (Join us on March 19th to celebrate with him! Tickets are still available here: https://bit.ly/37LCvS1)
Over 20 years ago, Spook Joyner opened The Rudy Theatre on Raiford street in Selma. Through the ups and downs of our economic cycles there has been one constant in Selma: The Rudy Theatre! Spook has stayed committed to Selma and his business through some trying times and through this commitment set an attendance record of over 26,000 for 2019.
This award is given to business owners who overcome obstacles that come their way and Mr. Joyner has certainly met challenges this year with determination and innovative solutions!
As flooding issues impacted the first rows of the Theatre, Spook's team has been pumping out water, moving sandbags, and doing what is required to stay open while a permanent solution is being designed. Another challenge that Spook has had to deal with is having no complimentary businesses around the Theatre. Spooks' Sales Manager, Jeff Hamilton, created a plan that helps both The Rudy and the town's new Civic Center by offering lunch at the Civic Center before the show. This innovative thinking will be a great opportunity to showcase the Civic Center while increasing attendance at the shows.
Spook resides in Spring Hope, NC where he enjoys spending time with his two daughters, Erika and Jamie. Spook especially enjoys song writing and some of his compilations have been published in Nashville.  Spook has appeared on stage with some of Country Music's greatest, such as Vince Gill, Kathy Mattea, and Asleep At The Wheel. He also finds himself at home in the recording studio, where he produces and arranges projects for many different artists. When asked about his love for the music business, Spook responds with no hesitation, "I'm thankful to God for the ability and opportunity that he has given me to make a living in this wonderful thing called the "MUSIC BUSINESS".
Congratulations to Mr. Spook Joyner and his entire team!