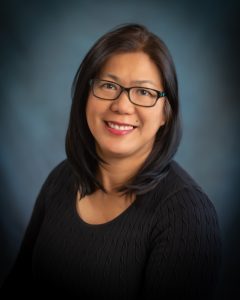 The Triangle East Citizen of the Year Award is given to someone who has made significant contributions to the region by giving of their time, talent, and energies. This person
shows commitment to the well-being and quality of life in our area. It is with great pleasure that we announce the deserving recipient of the 2019 Triangle East Citizen of the Year Award is Sol Canlas Halliburton
Sol Halliburton is the Foundation Director for the Johnston Health Foundation. She works tirelessly in her efforts to engage community members in giving of their time, talent, and treasure. Through the Foundation's development plan, Sol seeks to cultivate donors and be good stewards of their donations, involve volunteers in activities as well as high-level decision making, build awareness of hospital services and foundation programs.
Sol has worked hard to make a positive difference and to foster collaboration in our region. Servant leadership is her cornerstone. Currently, she is serving as co-chair of the Johnston Health Equity, Diversity and Inclusion Council, Public Image Chair of Rotary District 7710, and Program Committee Chair of the Clayton Rotary Club. Her involvement with the Triangle East Chamber of Commerce as a board member and a grassroots founder of the Non-Profit Alliance has been a testament of how teamwork creates success.
This is only a snapshot of the many roles Sol plays in our region. From running her own volunteer group to giving her time to a variety of other worthy causes, she inspires others to make a positive impact on their communities.