A Message from our Board Chair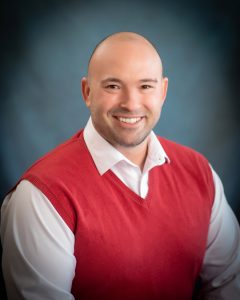 As the Chairman of the board of directors, I'm excited to serve our community where my family and I proudly call home.  My wife Brooke and I have 3 boys: Gabriel (8), Jacob (6) and Lucas (3).  As a Certified Financial Planner with Edward Jones for the past 10 years, we have strived to give back to the community that has supported our family.  So, thank you Triangle East!
We are now 9 communities strong and nearly 600 members represented.  The Triangle East Chamber now serves as a unified voice for positive growth for over 60,000 people in Johnston County!    With the additions of the Cleveland Community, Archer Lodge, and Pine Level, we are once again growing.  However, growth is just part of the picture. Advocacy has been the greatest value to Chamber members and the community.  Through the support of our membership and guidance by our President and CEO, Mike Mancuso, there has never been a more prosperous time to be part of the Triangle East Chamber of Commerce.  Thank you for your support and continued investment in our community.
We have added value at every level of membership, through Advocacy for our entire region and communities individually, through discounts to members, advertising, connections within the chamber and the list goes on.  But I will conclude with this, the chamber is working tirelessly for the benefit of all.  Get involved, let's make an even greater impact in the future!
In the past 50 years we've seen many changes and impact to our region.  Personally, I'm excited to see what the next 50 years will bring.  So what's next? It's up to you.  We want to know what the Chamber can do for our community.
Jeff Navarro, Board Chair 2020-21